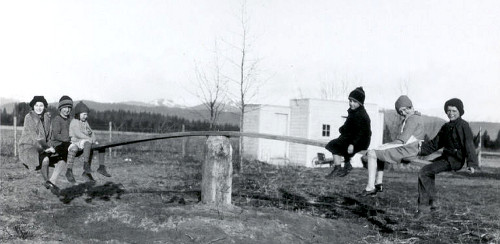 From Seems to Fit:
"For this one time," [Bonnie] said aloud, "I want us each to think about the same question, one question, while we do this. We don't have to say anything out loud, and we don't have to spend more than ten minutes doing it, I don't think—"

George: "Wait! Brandy first, question second." He raised his glass, uttered a single syllable: "Al."

"Al," they all repeated, and downed their shots.

The three men downed their shots, that is. Not Bonnie. She didn't want the shock of the liquor to bring on a second wave of laughter, and she wanted to ensure she could ask the question straightforwardly and without qualifying or explaining it. Bonnie sipped at hers, and put the glass back down on the table.

"Now," she said. "Now we touch hands — that's right, almost like a séance, good. And now we close our eyes, all the way Larry, no peeking. That's right. This is just us, each of us, answering the question for ourselves."

"So what's the question?" said Larry.

"Just this: why?" Bonnie said. "Why am I — each of us — why would I do this thing… put so much at risk? Not what's in it for Al, either. What's in it for me. For each of us, inside our own heads, that's the question for each of us: Why would I do this?" A pause to let it sink in. She closed her own eyes. "Okay? All clear? Go."

—

Why would I do this? thought Pierce.

The question resisted focus. He could not think of a single argument, a single fact that would convince him to pursue such a strange, reckless course of action…
A recent post on one of Nathan Bransford's forums asked the question directly, with the title "What Do You Write For?" INTERN asked it, customarily obliquely, in her post of a couple weeks ago ("chain of (publishing) fools") and in one a couple weeks before that ("exhaustion hunting the great spotted WIP-alump").
And it often percolates between the lines at Marta's writing in the water blog, sometimes bubbling to the surface — as in an entry of last week ("This is a sign by the side of the road"). A couple days ago she offered this trailer of an award-winning documentary:
Marta asked:
Would you write if every word stayed in the room with you until you died and left them behind?
Which pretty much lays it out there in stark terms, eh?

Writing is such an oddball thing to spend one's time doing. Especially writing fiction. With non-fiction, I think most people, including non-writers, would understand an author motivated by (abstractly) a desire to educate and/or inspire readers or (concretely) the somewhat more reliable monetary return on the time it takes to write an entire freaking book.
But novelists and short-story writers? Are they crazy, or what? Why do they do it?
One answer which frequently puts in an appearance goes something like this:
I can't describe it. I can't put it into words. I've just always been driven to write stories. Ever since I was in [fill in the blank] grade, I wrote stories down. It's in my DNA.
I'm willing to accept that this is "why" they write — it's their reason, after all, and who am I to say? (On the other hand, it seems to beg the question: "I want to write because I've always wanted to write." Um, okaaaay…)
All writers (even gregarious, glad-handing, ambitious, superficial social climbers) have to answer the question anew with every blank page; at least, they must be able to ride a wave of temporary confidence, to feel enough of the answer to get them to the second word, and the third, and fourth, then to page twelve…
Something must justify the tedium, the fear and anxiety of putting stories into words. It might not be some reward you get now. But if you can't put your finger on any answer at all, you have precious damned little reason to keep at it.
As I get older, I find myself less interested, almost day by day, in fantasizing how much money I'll make, how many copies I'll sell, how many trips I'll make to New York or Hollywood, how soon after publication date till The New Yorker runs its (first) profile of me, or when the fifth or six mailbag full of fan letters will be drop-shipped to my London pied-à-terre.* I don't have a critique group to urge me on, and even the non-writers around me have stopped asking — their innocent eyes sparkling — "How's your book coming?"
No. When I sit down each morning to face the next blank page, I'm finding — day by day — that the only need driving me on is expressed in the voice of someone else: someone other than me. Not a family member; not a reader, not even an imagined reader (let alone agent or editor). Furthermore, almost every day, it's a different someone else.
My characters are talking to me. They're patient but they urge me on, cluck their tongues, cock their eyebrows, fold their arms in disgust or look at me slyly or shyly out of the corners of their eyes. And they — even the ones offstage, the ones dead or incapable of speech — are always saying the same thing:
Tell it right.
________________
* Note careful wording: I didn't say I no longer harbor such fantasies. I said I'm daily less interested in doing so. 🙂