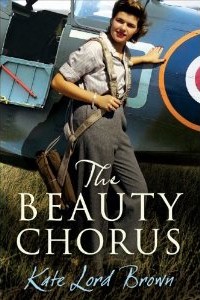 A first for Running After My Hat: a guest blogger!
Kate Lord Brown is already familiar to some of you as the curator of the blog What Kate Did Next. (She also instigated the Burning Lines experiment in collaborative online fiction of a couple years ago.) More recently, though — and the reason she's feeling celebratory — she's published her first novel, The Beauty Chorus.
New Year's Eve, 1940: Evie Chase, the beautiful debutante daughter of a rich and adoring RAF commander, listens wistfully to the swing music drifting out from the ballroom, unable to join in the fun… 5th January, 1941: Evie curses her fashionable heels as they skid on the frozen ground of her local airfield. She is here to join the ATA, the civilian pilots who ferry Tiger Moths and Spitfires to bases across war-torn Britain.
When Kate volunteered her services as a guest blogger, I thought at once of her own blog posts: light, downright lissome bundles of everyday slices of life, nostalgia, ruminations on and prompts for writing, and… music. All genres. All smoothly worked into the theme of the post du jour. So I asked her what role music had played in The Beauty Chorus itself, or in its author's mind while writing it. Here's how she responded.
Charms, eh? The woman hath charms.
[Videos below selected, by me with Kate's blessing, from The Beauty Chorus's YouTube playlist.]
_____________________________
Writers seem to fall into two camps — some can't work without music, others can't work with. I've always fallen into the former category — personally I don't do well with silence. The Arthur Rubinstein recording of Chopin's Nocturnes [1] is my default work music — it's perfect, sublime. Something about Chopin makes it the ideal music to write to (for me at least), and people I've recommended it to have found it helpful — why not give it a go? I tried playing it on the piano at my parents' house recently and found I couldn't any more — it sounded awful, ten years of lessons as a child had left me. Once we're settled, piano lessons and a piano are up there on the bucket list.
There was always music growing up at home. Inevitably at any party, there would be a sing-a-long around the baby grand. My uncle is a brilliant jazz pianist and I remember lying in bed listening to the grown-up parties downstairs. They'd normally swing through R&H, Jerome Kern — all the songbooks. My mother was the church organist and choir master — it's amazing how all those little old ladies could belt out the show tunes.
Maybe that's where my love of all the great jazz standards began. I can't hold a tune for toffee, but love all the great vocalists. Writing and editing The Beauty Chorus I was lost in the world of my girls from 7am-1pm each day, listening to Billie, Ella and the gang. It was continuously a bit of a shock to find myself in leafy Hampshire when I stumbled up the basement stairs at lunchtime. I favour the 'method' approach to writing. Writing the book I was immersed in the music, films, museums and archives of WW2. I raided old documents and diaries to get the historical details down, studied photographs of dashing pilots and actors (well someone has to), and most interestingly was in touch with the real Spitfire women who did the work my characters do. In their eighties and nineties now, they are every bit as sharp, brave, modest and feisty as I hoped they would be.
Music can be an instant 'key' into your work. For me as soon as I hear the opening bars of 'Sing, Sing, Sing' or 'How High The Moon' it's like a Pavlovian reaction (though instead of salivating for dog kibble, I am ready to start writing). It's good to experiment, find out what works for you. Some writer friends find anything with lyrics problematic and invasive, while they are fine with classical, jazz or dance.
Learning to type was one of the best things I've ever done for my future writing career — and the fearsome Mrs Leach who taught us at Clifton secretarial college (and passed round the nail scissors on the first morning to cut our nails to the quick) made us hammer away on huge old manual type writers to a succession of classical LPs, to get a good rhythm going. She typed John Le Carre's manuscripts using this method and claimed to have whizzed them off without a single typo at fearsome speed. So, perhaps there is something to writing to music.
It was something of a necessity writing The Beauty Chorus — my writing space in the corner of the basement was open to the noise of the kitchen above. When I was working it was tricky — three kids, hound, oak floor up above… you get the picture. It sounded like a herd of wildebeest stampeding majestically above my desk. So, I downloaded a soundtrack for the book and loaded up my MP3 player. It worked brilliantly, and if you like to write to music I really recommend it. As I listened to all those magical old tunes, and reinterpretations by artists like Jools Holland, the kinks in the text seemed to smooth out. So why not score your manuscript — get cinematic, visualise and hear your scenes. If The Beauty Chorus ever makes it to the silver screen there is a ready-made soundtrack.
__________________________
You can read more about
The Beauty Chorus
at the
Ask Evie
blog. Visit the YouTube playlist which Kate has set up to accompany the book's release, too; there, you'll find even more of Kate's great musical selections.
_____________________________
Notes (by John):
[1] Kate doesn't specify a particular one of the Rubinstein Chopin Nocturnes, but here's Op. 27, No. 2, in D-Flat — whose "opening melody will be familiar to many who cannot identify it by name" (per the All-Music Guide to Classical Music):
[Below, click Play button to begin Chopin: Op. 27, No. 2, Nocturne in D-Flat. While audio is playing, volume control appears at left — a row of little vertical bars. This clip is 6:13 long.]
Audio clip: Adobe Flash Player (version 9 or above) is required to play this audio clip. Download the latest version here. You also need to have JavaScript enabled in your browser.
[back]