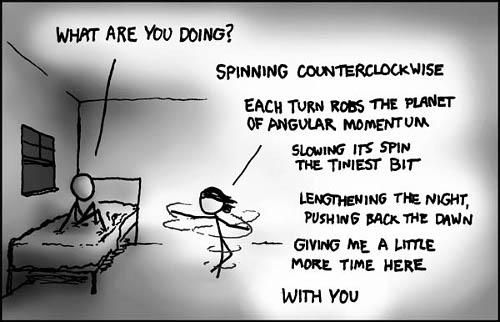 [Image: "Angular Momentum," from xkcd.com. The tooltip/"hover title" at the original page says: "With reasonable assumptions about latitude and body shape, how much time might she gain them? Note: whatever the answer, sunrise always comes too soon. (Also, is it worth it if she throws up?)"]
From whiskey river:
Remembering

And you wait. You wait for the one thing
that will change your life,
make it more than it is—
something wonderful, exceptional,
stones awakening, depths opening to you.

In the dusky bookstalls
old books glimmer gold and brown.
You think of lands you journeyed through,
of paintings and a dress once worn
by a woman you never found again.

And suddenly you know: that was enough.
You rise and there appears before you
in all its longings and hesitations
the shape of what you lived.
(Rainer Maria Rilke [source])
…and:
You're really just an ongoing set of events: boom, boom, boom, boom, boom, one after the other. The awareness is keeping up with those events, seeing your life unfolding as it is, not your ideas of it, not your pictures of it. See what I mean?
(Charlotte Joko Beck [source])
Not from whiskey river:
See the Flowers

See the flowers, so faithful to Earth.
We know their fate because we share it.
Were they to grieve for their wilting,
that grief would be ours to feel.

There's a lightness in things. Only we move forward
forever burdened,
pressing ourselves into everything, obsessed by weight.
How strange and devouring our ways must seem
to those for whom life is enough.

If you could enter their dreaming and dream with them deeply,
you would come back different to a different day,
moving so easily from that common depth.

Or maybe just stay there: they would bloom and welcome you,
all those brothers and sisters tossing in the meadows,
and you would be one of them.
(Rainer Maria Rilke [source])
…and:
My instruction for meditation practice is much the same as my instruction for psychotherapy: "Don't duck." Maybe it's a little cavalier to say, because sometimes you have to duck or you get blown away. But if I say to myself, "This is painful, but it's O.K.," and I stay there, then it's just what it is and then it changes. But when I run away from it or I push it away or pretend that it's something else, that is the suffering. All those maneuvers that we do to avoid saying, "This is true. This is what's happening" — the maneuvers themselves are the suffering.
(Sylvia Boorstein [source])
…and:
The Fair

Before the gates opened, before popcorn
and cotton candy drifted down throats

like sweet and salty summer evenings
of childhood, before the townspeople

confessed to the music and lights,
the Ferris wheel baskets swung empty

in a slow arc, one by one, offering color
to the sky — red, yellow, orange, blue.

Just roving boys, what else could we do
but follow the sandaled feet of girls

out to the fair to buy them rides
until our pockets turned up penniless,

until we lost them in the dark
the way sparrows will fly from you,

until our last walk past the fun house
mirrors stretched our bodies like gum,

when we caught ourselves looking
back at ourselves for the first time.
(Hank Hudepohl, from The Journey of Hands [source])
I never know what I'm going to find when I start free-associating for these Friday posts; there's always a surprise of some kind. When I plugged the phrase shape of life into Google, I wasn't all that surprised to find a 2002 PBS series about evolution by that title. (Sample topics: "What animals were the first to hunt? Do you need a head to get ahead?… How do humans fit into the shape of life? Why have animals with backbones enjoyed such success?") I wasn't all that surprised to find references to a song by a trio called Kink Ador. What surprised me was finding that song to be an infectious blend of funk, jazz, and rock… from a Nashville-based group said variously to resemble the Talking Heads, the Police, Lady Gaga, the Muppet Show, the Kings of Leon, and the Yeah Yeah Yeahs. (Kink Ador is fronted by vocalist/bass-player/trumpeter (!) Sharon Koltick, described at their site as "like Sting except more likeable.")
Here's Kink Ador's video for "The Shape of Life to Come":
One non-surprise: all three of them, including the drummer, sometimes seem ready to dance right away while playing — especially in that long minute-and-a-half instrumental which closes the song. I'm no dancer myself, but I can't say I blame them: that's some serious move-music going on there.
Lyrics:
The Shape of life to Come
(lyrics by Sharon Koltick; music by Kink Ador)

I hear the mournful music, I hear clapping hands.
We play along on guitar and drums.
Our footsteps tap tap, add to the requiem,
feed the remembering with each tap tap.

Our reflection in the window makes us move fast
but we can't outrun what's already passed.
Summer birds sing, I hope it never rains again
oh there's nothing to fear.
***it's the shape of life to come.

We take a short respite in a street cafe
get away from time, get away from light.
You say a few kind words, and I say amen.
oh there's nothing to fear.
***it's the shape of life to come.

(claps, snaps, and laughs, drum section)

I was born a no one with an ordinary name
but I've advanced myself, I've had huge gains.
I've got titles on my crown, and I'll never hit the ground.
oh there's nothing to fear.
***it's the shape of life to come.