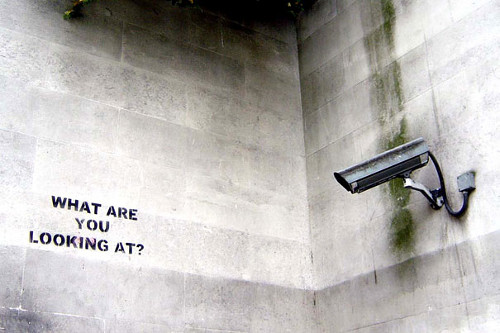 [Image: graffiti artist Bansky visited a subway archway in central London, adding a caption to a wall which just happens to fall within the view of a surveillance camera.]
From whiskey river:
All men, at one time or another, have fallen in love with the veiled Isis whom they call Truth. With most, this has been a passing passion: they have early seen its hopelessness and turned to more practical things. But others remain all their lives the devout lovers of reality: though the manner of their love, the vision which they make to themselves of the beloved object varies enormously. Some see Truth as Dante saw Beatrice: an adorable yet intangible figure, found in this world yet revealing the next. To others she seems rather an evil but an irresistible enchantress: enticing, demanding payment and betraying her lover at the last. Some have seen her in a test tube, and some in a poet's dream: some before the altar, others in the slime. The extreme pragmatists have even sought her in the kitchen; declaring that she may best be recognized by her utility. Last stage of all, the philosophic skeptic, has comforted an unsuccessful courtship by assuring himself that his mistress is not really there.
(Evelyn Underhill, Mysticism [source])
…and:
You're like a witness. You're the one who goes to the museum and looks at the paintings. I mean the paintings are there and you're in the museum too, near and far away at the same time. I'm a painting. Rocamadour is a painting. Etienne is a painting, this room is a painting. You think that you're in the room but you're not. You're looking at the room, you're not in the room.
(Julio Cortázar [source])
Not from whiskey river:
"It's a Snark!" was the sound that first came to their ears,
And seemed almost too good to be true.
Then followed a torrent of laughter and cheers:
Then the ominous words "It's a Boo—"

Then, silence. Some fancied they heard in the air
A weary and wandering sigh
That sounded like "-jum!" but the others declare
It was only a breeze that went by.

They hunted till darkness came on, but they found
Not a button, or feather, or mark,
By which they could tell that they stood on the ground
Where the Baker had met with the Snark.

In the midst of the word he was trying to say,
In the midst of his laughter and glee,
He had softly and suddenly vanished away—
For the Snark was a Boojum, you see.
(Lewis Carroll, from The Hunting of the Snark)
…and:
The folly of mistaking a paradox for a discovery, a metaphor for a proof, a torrent of verbiage for a spring of capital truths, and oneself for an oracle, is inborn in us.
(Paul Valéry [source])
…and:
ARREST IN BANK ROBBERY,
SUSPECT'S TV PICTURE SPURS TIPS

At 5 feet 6 inches and about 270 pounds, bank robbery suspect McArthur Wheeler isn't the type of person who fades into the woodwork. So it was no surprise that he was recognized by informants, who tipped detectives to his whereabouts after his picture was telecast Wednesday night during the Pittsburgh Crime Stoppers Inc. segment of the 11 o'clock news.

At 12:10 a.m. yesterday, less than an hour after the broadcast, he was arrested at 202 S. Fairmont St., Lincoln-Lemington. Wheeler, 45, of Versailles Street, McKeesport, was wanted in [connection with] bank robberies on Jan. 6 at the Fidelity Savings Bank in Brighton Heights and at the Mellon Bank in Swissvale…

Wheeler had walked into two Pittsburgh banks and attempted to rob them in broad daylight. What made the case peculiar is that he made no visible attempt at disguise. The surveillance tapes were key to his arrest. There he is with a gun, standing in front of a teller demanding money. Yet, when arrested, Wheeler was completely disbelieving. "But I wore the juice," he said. Apparently, he was under the deeply misguided impression that rubbing one's face with lemon juice rendered it invisible to video cameras.
(Errol Morris, from "The Anosognosic's Dilemma" [source])
…and finally: When is a number not a number?
Artist Cristóbal Vila demonstrates some answers, which might boil down to: When you find it in the natural world.
If you're after details of what's depicted here, and have an affinity for numbers, you might appreciate this explanation of the mathematical theory behind the film.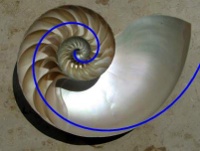 Or maybe you'll be content — this is a Friday, after all — just to let a general sense of the wonders of overlapping coincidence wash over you. Speaking for myself, now that I've seen this little film I'm inclined to forgive Vila's little "cheat" (or artistic license, if you will) about the (non-)relationship of the nautilus's structure to the Fibonacci sequence. (Just scroll down a little way down the page, labeled IMPORTANT NOTE. If you drill down through the various links provided which explain the mismatch between nautilus spirals and the Golden Spiral, you'll come to a link for the ultimate source online: an article in a 2005 issue of Science News. However, that final link is broken. The article is now here, instead.)