[Video: "Golden Record," a "collage/montage" of the contents of the so-called "golden record" sent into space with the two Voyager interstellar spacecraft. For more information, see the note below.]
From whiskey river (italicized portion):
Lost in the Cosmos:
The Last Self-Help Book

or

The Strange Case of the Self, your Self, the Ghost which Haunts the Cosmos

or

How can you survive in the Cosmos about which you know more and more while knowing less and less about yourself, this despite 10,000 self-help books, 100,000 psychotherapists, and 100 million fundamentalist Christians

or

Why is it that of all the billions and billions of strange objects in the Cosmos — novas, quasars, pulsars, black holes — you are beyond doubt the strangest?

or

Why is it possible to learn more in ten minutes about the Crab Nebula in Taurus, which is 6,000 light-years away, than you presently know about yourself, even though you've been stuck with yourself all your life

[etc.]
(Walker Percy, from Lost in the Cosmos [source])
…and:
II

Our voice trembles
with its own electric,
we who mood like iguanas
we who breathe sleep
for a third of our lives,
we who heat food
to the steaminess of fresh prey,
then feast with such baroque
good manners it grows cold.

In mind gardens
and on real verandas
we are listening,
rapt among the persian lilacs
and the crickets,
while radio telescopes
roll their heads, as if in anguish.

With our scurrying minds
and our lidless will
and our lank, floppy bodies
and our galloping yens
and our deep, cosmic loneliness
and our starboard hearts
where love careens,
we are listening,
the small bipeds
with the giant dreams.
(Diane Ackerman, from "We Are Listening," in Jaguar of Sweet Laughter [source])
Not from whiskey river:
We Are Listening

As our metal eyes wake
to absolute night,
where whispers fly
from the beginning of time,
we cup our ears to the heavens.
We are listening

on the volcanic lips of Flagstaff
and in the fields beyond Boston,
like a great array that blooms
like coral from the desert floor,
on highwire webs patrolled
by computer spiders in Puerto Rico.

We are listening for a sound
beyond us, beyond sound,

searching for a lighthouse
in the breakwaters of our uncertainty,
an electronic murmur,
a bright, fragile I am.

Small as tree frogs
staking out one end
of an endless swamp,
we are listening
through the longest night
we imagine, which dawns
between the life and times of stars.
(Diane Ackerman, Poetry Magazine, January 1988 [source])
…and:
[In 1957, one Air Force officer] speculated that one day soon aerospace physicians would be talking about a condition "known as the deadly rapture of space."

He was right, though NASA preferred the less flowery term "space euphoria."… The psychologists were nervous because the first two [Soviet] spacewalkers had expressed not only an odd euphoria but a worrisome disinclination to go back inside the capsule…

Four minutes into NASA's first spacewalk, Gemini IV astronaut Ed White gushed that he felt "like a million dollars." He struggled to find the words for it. "I've… it's just tremendous." There are moments when the mission transcript reads like the transcript of a 1970s encounter group. Here are White and his commander, James McDivitt, a couple of Air Force guys, after it's over:

WHITE: That was the most natural feeling, Jim.
McDIVITT:… You looked like you were in your mother's womb.

NASA's concern was not that their astronaut was euphoric, but that euphoria might have overtaken good sense. During White's twenty minutes of bliss, Mission Control repeatedly tries to break in. Finally the capsule communicator, Gus Grissom, gets through to McDivitt.

GRISSOM: Gemini 4, get back in!
McDIVITT: They want you to come back in now.
WHITE: Back in?
McDIVITT: Back in.
GRISSOM: Roger, we've been trying to talk to you for awhile here.
WHITE: Aw, Cape, let me just [take] a few pictures.
McDIVITT: No, back in. Come on.
WHITE:…Listen, you could almost not drag me in, but I'm coming.

But he wasn't. Two more minutes passed. McDivitt starts to plead.

McDIVITT: Just come on in…
WHITE: Actually, I'm trying to get a better picture.
McDIVITT: No, come on in.
WHITE: I'm trying to get a picture of the spacecraft now.
McDIVITT: Ed, come on in here!

Another minute passes before White makes a move toward the hatch, saying, "This is the saddest moment of my life."
(Mary Roach, Packing for Mars)
About the video: This YouTube uploader claims that the "collage/montage" includes "all the music and all the photos, the equations, noises and voices" represented on the record included with the Voyager missions; these missions will reach another star system in an estimated 40,000 years.(By then, the star system in question will have been swamped with radio, television, and other broadcasts of ours for almost that long — perhaps rendering the physical artifacts superfluous.)
In order to extract the contents of the Golden Record for themselves, of course, a hypothetical alien civilization would need to know what to do with the disk in the first place. For this reason, its surface is helpfully imprinted with schematic, non-verbal instructions. They look like this: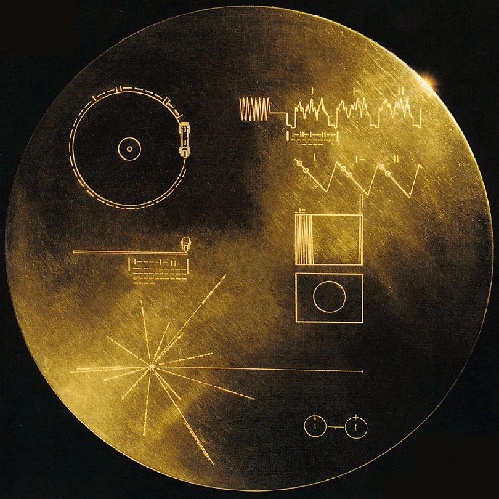 Here's the NASA diagram explaining what all that stuff means — what the aliens could presumably figure out for themselves, without needing a "how to read these instructions" meta-manual: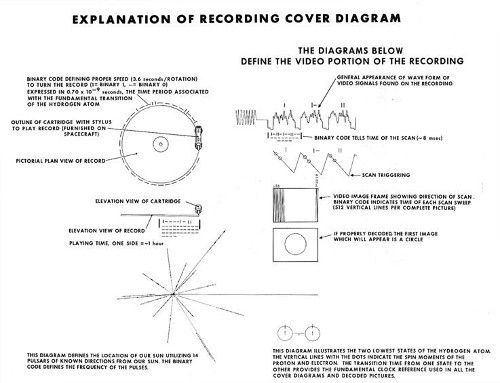 I like to think that either of the two Voyager spacecraft might simply come down in the Planet X equivalent of the African plains, bonking some unschooled, loinclothed alien in the head like an annoying golden Frisbee — sending him on a trek to throw the offending object into a sea of liquid methane: The Gods Must Be Crazy (Intergalactic Edition).