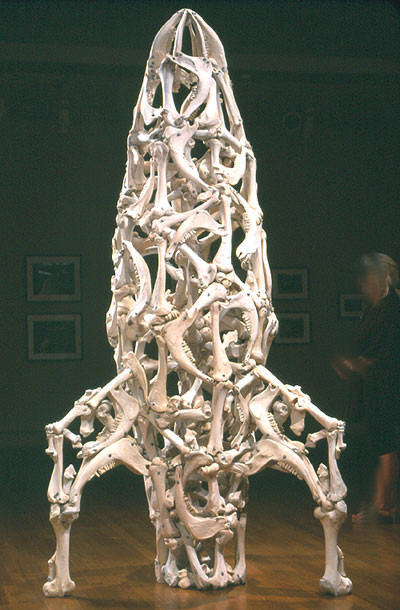 [Image: Beast of Burden, a sculpture by Sarah Perry. For more information, see the note at the foot of this post.]
From whiskey river:
Burlap Sack

A person is full of sorrow
the way a burlap sack is full of stones or sand.
We say, "Hand me the sack,"
but we get the weight.
Heavier if left out in the rain.
To think that the stones or sand are the self is an error.
To think that grief is the self is an error.
Self carries grief as a pack mule carries the side bags,
being careful between the trees to leave extra room.
The mule is not the load of ropes and nails and axes.
The self is not the miner nor builder nor driver.
What would it be to take the bride
and leave behind the heavy dowry?
To let the thick ribbed mule browse in tall grasses,
its long ears waggling like the tails of two happy dogs?
(Jane Hirshfield [source])
…and:
I think there is choice possible at any moment to us, as long as we live. But there is no sacrifice. There is a choice, and the rest falls away. Second choice does not exist. Beware of those who talk about sacrifice.
(Muriel Rukeyser)
…and:
I have been a lucky man. To feel the intimacy of brothers is a marvelous thing in life. To feel the love of people whom we love is a fire that feeds our life. But to feel the affection that comes from those whom we do not know, from those unknown to us, who are watching over our sleep and solitude, over our dangers and our weaknesses — that is something still greater and more beautiful because it widens out the boundaries of our being, and unites all living things.
(Pablo Neruda)
Not from whiskey river (the speaker here is Atlas):
I escaped, and joined the revolt against the heavens. I was the war-leader, the one who had lost most and had little to fear. What can a man fear with nothing to lose?

In the long fighting, most of use were killed, and my mother, out of her secret nature, promised victory to Zeus. What Titans were left were banished to Britain, where the cold inhospitable rocks are worse than death. I was spared for my great strength.

In a way I was allowed to be my own punishment.

Because I loved the earth. Because the seas of the earth held no fear for me. Because I had learned the positions of the planets and the track of the stars. Because I am strong, my punishment was to support the Kosmos on my shoulders. I took up the burden of the whole world, the heavens above it, and the depths below. All that there is, is mine, but none of it in my control. This is my monstrous burden. The boundary of what I am.

And my desire?

Infinite space.
(Jeanette Winterson, Weight [source])
…and:
The Bear at the Dump

Amidst the too much that we buy and throw
away and the far too much we wrap it in,
the bear found a few items of special
interest — a honeydew rind, a used tampon,
the bone from a leg of lamb. He'd rock back
lightly onto his rear paws and slash
open a plastic bag, and then his nose—
jammed almost with a surfeit of rank
and likely information, for he would pause—
and then his whole dowsing snout would
insinuate itself a little way
inside. By now he'd have hunched his weight
forward slightly, and then he'd snatch it back,
trailed by some tidbit in his teeth. He'd look
around. What a good boy am he.
The guardian of the dump was used
to this and not amused. "He'll drag that shit
every which damn way," he grumbled
who'd dozed and scraped a pit to keep that shit
where the town paid to contain it.
The others of us looked and looked. "City
folks like you don't get to see this often,"
one year-round resident accused me.
Some winter I'll bring him down to learn
to love a rat working a length of subway
track. "Nope," I replied. Just then the bear
decamped for the woods with a marl of grease
and slather in his mouth and on his snout,
picking up speed, not cute (nor had he been
cute before, slavering with greed, his weight
all sunk to his seated rump and his nose stuck
up to sift the rich and fetid air, shaped
like a huge, furry pear), but richly
fed on the slow-simmering dump, and gone
into the bug-thick woods and anecdote.
(William Matthews [source])
The first Beatles album I ever owned was nearly their last: 1970's Abbey Road. (I quickly filled in the gaps!) That album ends with a brief, inconsequential little ditty called "Her Majesty." But it's preceded by a three-song suite which is difficult to think of as anything but a whole; this suite is often cited as one of the group's most sophisticated works. (It's also cited as a hint of their impending breakup — the "weight" in question being the onus of the band's history, as they went their separate ways.)
While looking through some links about the songs, I found this video. It's from a 1997 charity concert at which Paul McCartney performed; he's backed onstage by an interesting cast of supporting players: a gospel choir and orchestra, Phil Collins on drums, Mark Knopfler and Eric Clapton on guitar… and that's Beatles producer George Martin wielding the conductor's baton.
Lyrics to "Golden Slumbers/Carry That Weight/The End" (written by McCartney, but credited to Lennon/McCartney together):
Golden Slumbers

Once there was a way to get back homeward
Once there was a way to get back home
Sleep pretty darling do not cry
And I will sing a lullaby

Golden slumbers fill your eyes
Smiles awake you when you rise
Sleep pretty darling do not cry
And I will sing a lullaby

Once there was a way to get back homeward
Once there was a way to get back home
Sleep pretty darling do not cry
And I will sing a lullaby

Carry That Weight

Boy, you're gonna carry that weight
Carry that weight a long time
Boy, you're gonna carry that weight
Carry that weight a long time

I never give you my pillow
I only send you my invitations
And in the middle of the celebrations
I break down

Boy, you're gonna carry that weight
Carry that weight a long time
Boy, you're gonna carry that weight
Carry that weight a long time

The End

Oh yeah, all right
Are you going to be in my dreams
Tonight?

Love You, love you,
Love You, love you…

And in the end
The love you take
Is equal to the love you make.
________________________________
Note: Artist Sarah Perry says, of the sculpture whose photograph tops this post:
I try to convey the content of the work through the scale, image, material and title. Recently I've been using the remains of found creatures, mummified or skeletal, as a source of identification. Tiny mice, huge cow and human femur bones look much the same, differing primarily in size. In "Beast of Burden", a 9-foot tall old-style rocket made from cattle leg and jaw bones, I tried to communicate the merging of the weight of our brutish past and the striving to explore and understand our place in the future.
Note 2: Please visit the blog of Maureen E. Doallas [source] for a wonderful poem, "Carry the Weight of Stars."