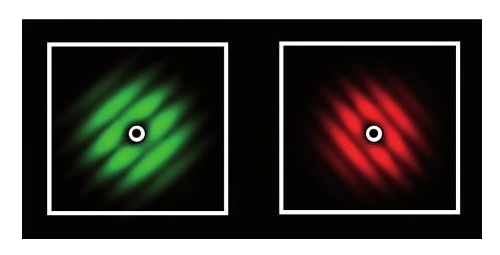 [Above: an image designed to induce binocular rivalry: an attempt by one's senses to forge a single thing from two conflicting images. See here for instructions on how to use.]
From whiskey river:
When you have lived as long as I, you will see that every human being has his shell, and that you must take the shell into account. By the shell I mean the whole envelope of circumstances. There is no such thing as an isolated man or woman; we are each of us made up of a cluster of appurtenances. What do you call one's self? Where does it begin? where does it end? It overflows into everything that belongs to us — and then it flows back again. I know that a large part of myself is in the dresses I choose to wear. I have a great respect for things! One's self — for other people — is one's expression of one's self; and one's house, one's clothes, the books one reads, the company one keeps — these things are all expressive.
(Henry James [source])
…and:
We have to recognize that the world is not something sculptured and finished, which we as perceivers walk through like patrons in a museum; the world is something we make through the act of perception.
(Terence McKenna [source])
…and:
Kneeling

Moments of great calm,
Kneeling before an altar
Of wood in a stone church
In summer, waiting for the God
To speak; the air a staircase
For silence; the sun's light
Ringing me, as though I acted
A great rôle. And the audiences
Still; all that close throng
Of spirits waiting, as I,
For the message.
Prompt me, God;
But not yet. When I speak,
Though it be you who speak
Through me, something is lost.
The meaning is in the waiting.
(R. S. Thomas [source])
Not from whiskey river:
The route I was supposed to take [to elementary school] went around the block, on sidewalks all the way, past the vacant lot on the corner, past the little blue frame house of Mrs. Griffith, who once phoned my mother to report: "Your daughter is talking to herself again! Lord knows what she talks about. I just thought I'd better tell you, Marcia." Then on past the bookmobile stop across from the drugstore where I sometimes bought plastic horses and riders. I loved playing with the horses, whether they were ridden by cavalrymen or cowboys, and most of all I liked it when they came with small red rubber saddles and reins that fit the groove in the horse's mouth and even stirrups you could slide onto the foot of the rider. But the figures themselves were always frozen in a state of alarm or rest: the horses were always galloping, trotting, or standing stock-still at some invisible hitching post, the riders were always waving their arms or hunkering low in the saddle or sitting up stiffly on parade march. Though I tried to make them move, by bending or heating or twisting, I soon learned, as I would later about real soldiers and cowboys, that they could break beyond repair and disappear from my life. I never really thought of them as frozen; I thought of them as always frightened, always angry, always sad, always silently yelling.
(Diane Ackerman [source)
…and:
My Dog Practices Geometry

I do not understand the poets who tell me
that I should not personify. Every morning
the willow auditions for a new role

outside my bedroom window — today she is
Clytemnestra; yesterday a Southern Belle,
lost in her own melodrama, sinking on her skirts.

Nor do I like the mathematicians who tell me
I cannot say, "The zinnias are counting on their
fingers," or "The dog is practicing her geometry,"

even though every day I watch her using
the yard's big maple as the apex of a triangle
from which she bisects the circumference

of the lawn until she finds the place where
the rabbit has escaped, or the squirrel upped
the ante by climbing into a new Euclidian plane.

She stumbles across the lawn, eyes pulling
her feet along, gaze fixed on a rodent working
the maze of the oak as if it were his own invention,

her feet tangling in the roots of trees, and tripping,
yes, even over themselves, until I go out to assist,
by pointing at the squirrel, and repeating, "There!

There!" But instead of following my outstretched
arm to the crown of the tree, where the animal is
now lounging under a canopy of leaves,

catching its breath, charting its next escape,
she looks to my mouth, eager to read my lips,
confident that I — who can bring her home

from across the field with a word, who
can speak for the willow and the zinnia—
can surely charm a squirrel down from a tree.
(Cathryn Essinger [source])
On his 1989 album, The Healer, John Lee Hooker joined forces with a good number of other old-soul musicians (Ry Cooder, Robert Cray, et al.). Among them was Bonnie Raitt, in a smokin' version of Hooker's "I'm in the Mood." Raitt reportedly said of the experience, "I get a little bothered up there, singing that song with John." Ha! I wouldn't be surprised if the botheration worked both ways. As one reviewer said:
With Hooker's throaty, beautiful lower tones, Raitt's seductive voice and her skin-tingling bottleneck slides, it's steamy enough to open envelopes.
In the video below, the two of them recreate that performance, onstage someplace (it's excerpted from a compilation DVD, John Lee Hooker & Friends 1984-92).