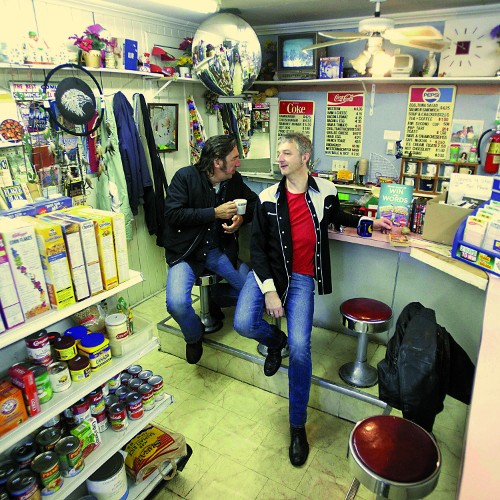 It's worth remembering that outstanding music is made by professionals other than big-name bands and frontmen — successful or not. There are of course the headliners, the acts which other performers open for. Then there are smaller-scale artists who consistently get great reviews and have loyal fan bases; think Gillian Welch and David Rawlings, say, or Mary Gauthier (a recent find — thanks, Greg!).
And then there are all the others: studio musicians, accompanists, songwriters for other people…
From the Fearing & White Web site, their bios:
Fearing is well known within the international folk and roots music community as one of its most accomplished songsmiths, storytellers and guitarists. A double Juno award winner in his native Canada, he has experienced commercial and critical success, both in his solo career and with roots/rock supergroup Blackie and The Rodeo Kings. Along the way, Stephen has toured and recorded with everybody from Merle Haggard to Shawn Colvin.

Northern Ireland born and raised White has earned a global following for blending folk and pop stylings with a poet's sensibility. Working with the great names of Irish music — Sinead O'Connor, Van Morrison — and writing with the likes of Peter Gabriel and Neil and Tim Finn, Andy has won Ireland's top songwriting awards and toured the world many times. A published author, his recent on the road journal/novel 21st Century Troubadour has scored rave reviews.
These two guys have been around. (And my guess is: they're just fine with that.) Friends for years, they have sometimes toured or otherwise played together, and recently released their first duo album, Fearing & White. (They've also got multiple solo releases between them.) Here's one of the songs from the middle of the playlist, "Under the Silver Sky":
I've found no lyrics for this anywhere, and — for now — I'm not willing to trust any transcription I might make myself. (Not while wearing a loaned and clearly less expensive hearing aid. :)) So for now maybe you can just be satisfied, as am I, with the upbeat, ramshackle-road-trip but tightly played feel of it.
(Good interview with them at the Maple Mixtape site, dedicated to "exposing great Canadian music one track at a time.")
Update: Thanks to Beat Surrender, again, for introducing me to performers who so neatly fit my frame of mind.