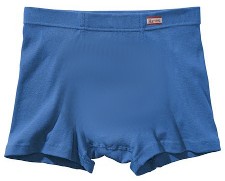 Someone, no doubt, has taken a census of active bloggers and other social-media types, focusing on gender. I don't know what the breakdown might be; maybe I'm stereotyping at least one sex, if not both, but I would not be surprised to learn that more women than men contribute to the ebb and flow of online conversation.
And I'm not complaining, not at all. Totally fine with it—
Well, one little corner of human existence goes sadly unremarked upon because of the gender imbalance. And because (at least in the West) gender-based cultural constraints forbid discussion of it.
I speak, of course, of men's underwear. I speak in particular of… The Slot.
A woman I once knew confessed that she had never understood The Slot's purpose until she had a son. "But surely, " I said, "you must have seen, er, handled, er, uh, known about The Slot bef—"
Yes, she said. All of those things. It had just never occurred to her that The Slot might have some sort of at-least-daily practical value. (Apparently she regarded it as a little foible of the designers — a curlicue, a filigree, a aesthetic adornment of an otherwise plain functional garment: something added to men's underthings just as, say, lace might be added to women's.) Then she observed her son, imitating his father and, y'know, making use of The Slot. The light bulb blinked on.
Recently I have been alarmed to discover that The Slot (like seemingly everything else) is endangered by the forces of capitalists and/or just-because-we-can busybodies.
Now, it may help (if that's the word) to know that I don't buy underwear, like, every month. Every so often, I just know that it's time. (Doing laundry often triggers the alarm bell, so to speak.) So I stop by a local department store and buy a three-pack. Other than price and, um, well, genre (boxers, briefs, boxer briefs, mid-thigh vs. thong, etc.), there's really no shopping decision to make. Because something so basic, so elemental, so plain never need change.
A few months ago, alarm duly triggered, I ducked into the store on a lunch break. Grabbed a three-pack. Opened it the next morning, post-shower, and donned a fresh pair.
I don't often say, aloud, what people mean when they type WTF?!? in a comment somewhere online. I did on that morning, however. Because the model in question, it so happened, was stubbornly Slotless.
It eschewed The Slot.
I've tried but failed to come up with a suitable analogy to help women readers understand my frustration, nay, my rage.* Why? There just doesn't seem to be a women's garment designed to be used sometimes with a protrusion and sometimes not. (You have no idea how hard I sweated over the wording there.) The closest thing I've come up with: imagine that all women's shoes had always been open-toed, and manufacturers decided at some point that the open toe was superfluous, dangerous, unsanitary, or whatever. So they closed it off. Because, of course, if you needed for whatever reason to expose your toes to air you could just remove the shoe, or leave the bulk of your foot in the shoe but work the toes up and over the lip of the upper.
(The flaw in this analogy, of course, is that toes are not… not… That For Which The Slot Was Designed.)
Last month, The Missus and I headed out of town for a long weekend's mini-vacation. Perhaps it's a measure of how long we've gone without traveling, but I'd forgotten (I know, I know) to pack any underwear, other than the (Slotted) pair I was wearing at the time.
No problem! We're vacationing in an area practically carpeted with outlet stores! I'll just swing by the Jockey outlet and—
Luckily, I'd remembered the lesson of the last purchase. Because, it seems, men's underwear makers have decided that further tampering is called for. The cunning vertical over-and-under Slot is now available horizontal (higher or lower as the gentleman's need might be); it is available diagonal; of course it is available (as stated) in a completely absent manner. For all I know, it can be had switched around to the back or side (left- or right-handed use!) or — cripes — in a design-your-own multi-directional-Ziploc model.
I do know that I finally found something approximating "normal" all the way at the back of the store, in a couple of racks labeled "Classic" (a term also associated with 45-rpm records and movies starring Bette Davis). True, the fabric they were made of was some sort of weird thin stretchy-grabby stuff (don't try putting them on if you've got a hangnail). But they were the right form.
And yet why, oh gods, why was this necessary? Didn't any of the designers ever stand in a public rest room and try to wrestle himself — like a rodeo cowboy struggling with a bull tangled in the traces — into a useful posture as the fellows behind him guffawed into the crooks of their elbows?
__________________________
* I haven't discussed this with any guys, either. Not at all. I assume they will understand and, uh, support me.