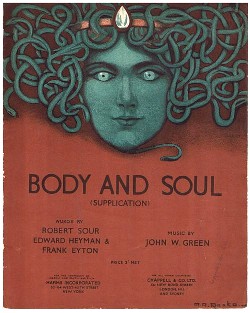 It starts in silence. By the end, the singer has thrown him- or herself melodramatically, almost operatically on the mercy of a lost love. It's drenched in self-pity, but was written for and first performed by a woman once dubbed "Hollywood's first maneater." One of its most famous covers includes no vocal at all, and barely follows the tune. And it's gone on to become, arguably, the single most-recorded pop standard in history.
Finding something to say about "Body and Soul" isn't hard. What's hard is shutting off the tap.
—-
John W. "Johnny" Green was a Harvard economics graduate working on Wall Street at the cusp of the Great Depression — not a great place to be building a career at that supremely wrong moment of history. Luckily, he didn't care much about economics; his real interest was in writing music. Indeed, in 1928, at age 19, he'd already co-written (with Gus Kahn and Carmen Lombardo) a hit Broadway song, "Coquette." With his father-in-law's encouragement, Green started to establish working relationships with other musicians in New York.
And right about then, in 1929, British actress Gertrude Lawrence sashayed into his life.
Alas, I couldn't think of a way to crowbar the story into this post. But while researching it, I came across a fascinating 2009 article at the Mail (UK) Online site, looking back at Lawrence's life and career. The image presented in the first few paragraphs alone may be burned into my brain for years.
—-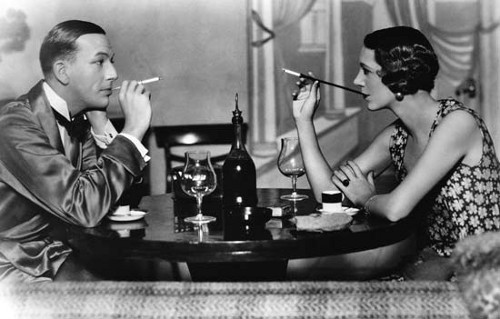 [Image: Noel Coward and Gertrude Lawrence in 1930, both then appearing in the Broadway premiere of Coward's Private Lives]
Lawrence had always had success in stage drama and in stage musicals, both on Broadway and in London's West End (although she never really caught on in films). At about this time, though, she was seeking some new songs to use in her live act and on radio, and turned to her young accompanist — Green — for help.
By then, Green had begun working on his compositions with two lyricists in particular, Edward Heyman and Robert Sour. Together, they came up with four songs for Lawrence's consideration — among them, an unnamed torch song. It was Heyman, at a friend's suggestion, who came up with the title: "Body and Soul." One catch: where to use the phrase in the lyrics? Said Green (according to one source), the conversation among the collaborators went like this:
"'Where does the title come? Is it going to come at the beginning of the phrase, is it going to come at the end of the phrase? Are you going to say "Body and soul, my life belongs to you; body and soul, my days begin and end with you" or is it going to be "So and so and so and so and I belong to you, body and soul" at the end?'" For the answer, Green took inspiration from the future great lyricist E.Y. ("Yip") Harburg… How would Harburg approach it, they asked? "We decided that communications-wise, that impact-wise, that feelings-wise, going back to the Harburg ethic in philosophy, that the point could be driven home more clearly by setting up premises and tying them off with a wallop, with that powerful title."
All three partners were excited to work with the title, even though they knew it would cause problems. "Soul," eh, that would fly all right. It was that "Body" which triggered pursed lips. (Boston banned broadcasts not only of the song, but even of mention of its title.) And the balance of the lyrics didn't reassure the censors about the singer's determination to remain pure:
Body and Soul
(music by Johnny Green; lyrics by Robert Sour, Edward Heyman, and Frank Eyton)

Life's dreary for me
Days seem to be long as years
I look for the sun
But I see none through my tears

Your heart could be a stone
To leave me here all along
When you could make my life worth living
By simply taking what I'm set on giving

My heart is sad and lonely
For you I sigh, for you, dear, only
Why haven't you seen it?
I'm all for you,
Body and soul

I spend my days in longing
And wondering why
It's me you're wronging
I tell you I mean it:
I'm all for you,
Body and soul

I can't believe it
It's hard to conceive it
That you'd turn away romance
Are you pretending?
It looks like the ending
Unless I could have one more chance
To prove, dear,

My life's a hell you're making
You know I'm yours for just the taking
I'd gladly surrender
Myself to you,
Body and soul
Aside: The above is an approximation; I haven't been able to track down the actual honest-to-gods lyrics as first written, as distinguished from all the many additions, subtractions, and other spins put on them by singers and bandleaders. As for Frank Eyton, a British lyricist credited on the UK (but not US) copyright with Heyman and Sour, he's got a shadowy relationship to the known facts of the song's creation. According to some sources he altered some (unspecified) words for English audiences; to others, including Sour, he "didn't add a comma" — merely pulled strings in the English music industry to ease "Body and Soul's" way onto a recording.
Gertrude Lawrence was as enthralled as the song's creators — enough that she (a) bought a minority share in its rights, and (b) performed it only a few times herself, albeit never on record, before taking it back to England. There it caught the ear of two popular bandleaders, one of whom, Jack Hylton, would record it for the very first time (actually a couple weeks before the copyright was registered).
[Below, click Play button to begin Body and Soul. While audio is playing, volume control appears at left — a row of little vertical bars. This clip is 4:30 long.]
Audio clip: Adobe Flash Player (version 9 or above) is required to play this audio clip. Download the latest version here. You also need to have JavaScript enabled in your browser.
This rendition has the tinny bouncy sound of much popular music of that era; you could be forgiven for wondering what this had to do with the torchy heartbreak familiar for pretty much the entire balance of the song's long life. For an answer to that, we jump back across the Atlantic, to the USA.
—-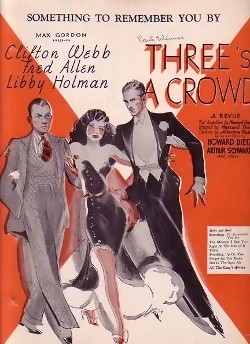 I knew of Clifton Web as the star of classic sober Hollywood films like Laura and Cheaper by the Dozen. As for Fred Allen, I knew of him only vaguely, as a sort of wise-cracking raconteur and radio host. Libby Holman? Never heard of her.
Now that I know a little more about each, I still wouldn't have put them together in a Broadway revue, Three's a Crowd. (Webb least of all, not in a role as a "sweetback"– Harlem slang for a pimp — dancing as Holman sang "Body and Soul" to him.)
Aside: Holman turns out to have been quite an interesting personality, in the all too familiar omigod-show-business-train-wreck way. See this excerpt from The New American Encyclopedia of Scandal for some hair-raising reading.
Holman métier was as a torch singer, so you'd think "Body and Soul" would come easily to her. But not as it arrived from England — not in that arrangement which we just heard. During previews in Philadelphia, she grew so despondent over her lackluster performance, of that song in particular, that she hung a note to herself on her dressing-room wall: "Clifton Webb and Fred Allen in Two's a Crowd."
To her rescue: composer and arranger (this is really too good a name) Ralph Rainger. He recast the song in the torch mode to which Holman was accustomed; the director restaged the number to emphasize its dark passion. Holman would enter from stage left, in a slinky black dress and plunging neckline…
…and, just like that, "Body and Soul" as we think of it was complete.
The new arrangement debuted in the final performance of the Philadelphia tryouts, was an instant hit there, and never stopped moving once the show hit Broadway. Holman herself had such success with it that she recorded it later that year:
[Below, click Play button to begin Body and Soul. While audio is playing, volume control appears at left — a row of little vertical bars. This clip is 4:20 long.]
Audio clip: Adobe Flash Player (version 9 or above) is required to play this audio clip. Download the latest version here. You also need to have JavaScript enabled in your browser.
Still pretty old-fashioned, eh? All those trilling r's and l's, those hammered-in d's. When Holman sings the word body, it comes out sounding not like boddy, but like an excruciatingly upperclass over-enunciated baw-dy.
But we've got the advantage of hindsight, of eighty years' history and social (to say nothing of musical) upheaval since then. "Body and Soul" still hadn't bumped up against jazz and blues, Billie Holiday and Coleman Hawkins, and all the hundreds of other performers who would reach for it when they wanted to shape heartbroken desperation around the notes of a song.
In Part 2, coming up in a few days, we'll take a look at some of those hundreds — with a brief opening detour into the mechanics of the song itself.